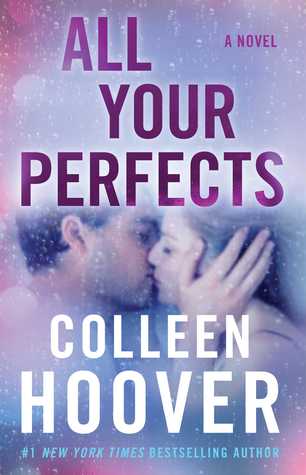 All Your Perfects
-Colleen Hoover
You know how amazing a book is when you go from a long review writing slump to jumping on your laptop the first thing after finishing it. I seriously thought I was at a stage where I could expect what Colleen's romances would be like but man shes ended up blowing my mind once again.
All Your Perfects is written in a format that's going to screw with you way too frequently. While the book is mainly based on how after nine years, Grant and Quinn's marriage is falling apart, there are alternating chapters of them meeting and falling in love and being at their happiest- and later having to read them with a broken marriage truly makes this one of the most heartbreaking books I have read.
If there is anything like fate or soul mates, Quinn and Grant are epitome of it. Their love is truly magical – in a realistic way and something that makes you think about love like, 'I don't want it if it's not like that.' Something I love about Colleen's books – and this is how genuine their love is, it's not cliche or unbelievable at any point in the story.
While their love story have a beautiful beautiful start with a genuine chemistry and fireworks, reading about their marriage falling apart while they were still so much in love was just traumatizing.
Colleen's writing is spectacular, I'm at a loss of words at just how good she is at playing with your feelings and she seems to get better and better with each of her book.
I don't want to say more because this is one of those books that's best to go in unknowingly and let it flow flawlessly. But i definite definitely encourage you to pick this book up.
Goodreads:- https://www.goodreads.com/book/show/38926487-all-your-perfects?ac=1&from_search=true
Song for the book:-  Wouldn't Change a Thing from Camp Rock 2 (I ended up rewatching one of my favorite childhood movies and man this song fits perfectly)